(m)stihl Bga 56 Kit Blower (ak)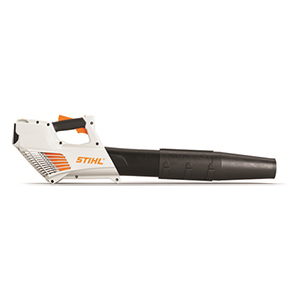 STIHL BGA 56 AK Cordless Blower Kit

This battery-powered handheld blower bundle comes standard with battery and charger, and combines great power and long run times. Batteries and chargers can be purchased separately or as a combined set with tool. Part of the STIHL AK Series, the BGA 56 battery-powered handheld blower is a great choice for suburban homeowners who demand great power, durability and run time. Part of the STIHL Lightning Battery System0 line of products, the BGA 56 bundle comes standard with the AK 20 battery and AL 101 battery charger. It is lightweight at only 7.3 lbs. (including battery) and features an adjustable blower tube and enough power to clear a sidewalk, seven football fields long, ON A SINGLE CHARGE. Stop by our store today and see the blower in person, as well as the entire line of STIHL Lightning Battery System products.

Features:

Hanging Slot

Multi-Function Handle

Built in the USA

Rubberized Soft Touch Handle

Reduced-Emission Engine Technology - Caring for Nature

Lightweight Portability
U/M

/ EA

Price

$199.95

Part Number

45230115941

Manufacturer

NORTHEAST STIHL

Quantity Available

.