20 Ton Screw Jack W/turner Bar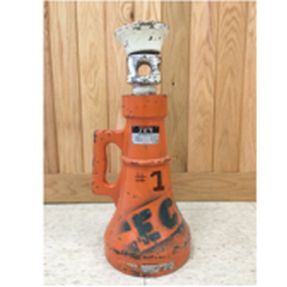 20-Ton, 2-Stage Screw Jack with Turner Bar
(# 12-227-03 and 12-227-04)

Safety Protection: N/A.
Operation Instructions: Insert metal bar into any hole and spin to wanted height.
Additional Parts/Information: Top of jack screw allows for higher reach. Maximum height- Approximately 12 inches

This screw jack works to hoist up vehicles and machines up to 20 tons. It features a heavy-duty cast bell shaped base to provide stable foundation when holding heavy loads. The corrugated pivoting head allows the controller to access the maximum amount of surface contact. The screw jack guarantees that up to 40,000 pounds could be held without creeping.
U/M

/ DA

Price

$15.00

Part Number

FA12-227

Quantity Available

.