24' Aluminum Extension Ladder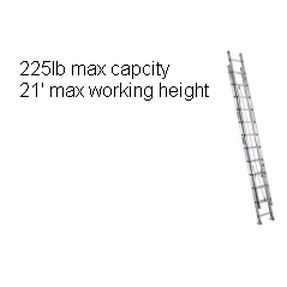 24' Aluminum Extension Ladder (# 26-115-01)

Safety Protection: Ladders over 24 ft. are required to have some form of a safety fall protection.
Operation Instruction: Rest ladder on desired object to climb. Take ladder and hold firmly straight in the air with the bottom feet still touching the ground. Raise ladder to desired height by pulling on rope. Rest ladder against desired object. Climb ladder after assuring the ladder is secured. For extra protection (especially with high extension ladders) it is recommended to have someone or something holding the bottom two legs so they cannot move.
Additional Parts/Information:N/A.
U/M

/ DA

Price

$30.00

Part Number

FA26-115

Quantity Available

.