4 Ton Come-along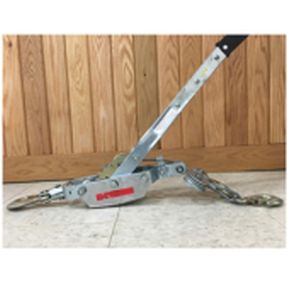 4-Ton Come Along
(# 12-465-03)

Safety Protection: N/A.
Operation Instructions: Attach fixed hook to the fixed point of towing. Move Spring to release the cable. Release cable to object in tow. Attach cable hook to object in tow. Move spring back to allow for tightening of the ratchet. Ratchet object in tow until it reaches the desired point of towing.
Additional Parts/Information: N/A.

The 4 Ton Come-Along Cable Puller helps with heavy-duty lowering, lifting, and pulling jobs. It's ideal for workshops, construction, home projects, automotive use, and more. The body is made of solid steel, which offers durability and long-lasting performance.
U/M

/ DA

Price

$10.00

Part Number

FA12-465

Quantity Available

.