Doug Fir Wood Pellets (ton)
Northern Warmth Supreme Douglas Fir Wood Pellets
For use in pellet stoves only

Northern Warmth Supreme Douglas Fir Super Premium Wood Pellets burn hotter, longer and cleaner than other woods. These pellets have set the standard for super premium fuel pellets, made up of clean 100% Douglas Fir softwood.


Sold by the bag (in-store only) or by the ton (pickup or delivery)
50 bags per ton

40 lbs each

BTUs: > 8,800 per lb

Moisture content: < 5.0%

Ash content: < 0.25%

Density: > 42 lb/cu.ft.

*Pallet Jack Service is NOT Included*
If you would like pallet jack delivery please, add the SKU PJD to your cart. We will call and verify this with you once you place your order.


U/M

/ EA

Price

$487.50

Part Number

WP40DFT

Quantity Available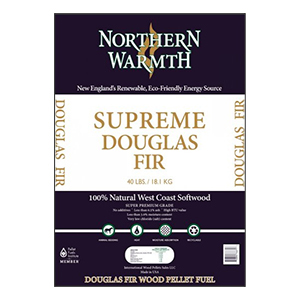 Seem to burn well but DUSTY!!
I bought a ton in Spring 2022 in anticipation of higher prices in Autumn. Tried a few bags. Seem to burn well but they are extremely dusty... Empty bag in hopper, cover your mouth and cough
2 out of 2 people found this review helpful.
Did you find this review helpful? Yes / No