Fire Wood Processor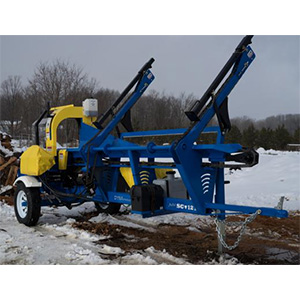 DYNA SC-12 XP Firewood Processor (# 39-420-01)

Quick to setup, easy to operate the SC-12 XP Firewood Processor performs smoothly with a reliable 20 HP Honda motor (13 HP Honda available on Non-XP Model), allowing you to easily process one full cord of firewood per hour. A heavy duty 18-inch harvester bar on the hydraulic saw motor cuts quickly. An 8-Foot Conveyor and 4-way wedge comes standard, an optional 6-way fixed wedge is available (6-way bundling wedge limited to 10-inch diameter logs). Logs are loaded into the machine and advanced into the cutting position with easy joystick controls. Once the saw bar and manual clamp are engaged by the operator, the hydraulic saw motor starts automatically.

20 HP Honda gasoline engine

Manual saw

Manual log clamp

8 Foot belt conveyor

4-way firewood spiting wedge

2-inch Ball Hitch

6-way adjustable wedge also available (see FA39-425)
U/M

/ DA

Price

$250.00

Part Number

FA39-420

Quantity Available

.