Folding Engine Hoist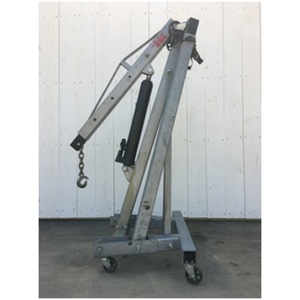 Folding Engine Hoist
(# 12-190-08 )

Safety Protection:Steel toe footwear.
Operation Instructions: Remove pins from both legs. Undo ratchet strap. Lower legs the ground. Place pins back in legs. Extend legs based off load size (Legs extended further for more leverage on heavier loads.) Connect Engine to hoist with chains (not included.) Remove bar and place into hydraulic pump. Raise engine as necessary. Use bar to release pressure (lower engine) by turning pin on the side of hydraulic pump. Additional Parts/Information: Chains for hoisting engine are not included. Maximum load capacity is 2 tons.

This tool offers the kind of lift you need while enjoying the convenience of easy storage. This hoist can hold up to two tons, with an easy to use hydraulic pump. After the job is done, the foldable engine hoist is easy to store for compact storage.
U/M

/ DA

Price

$30.00

Part Number

FA12-190

Quantity Available

.