Generator 3200 Watt Invertor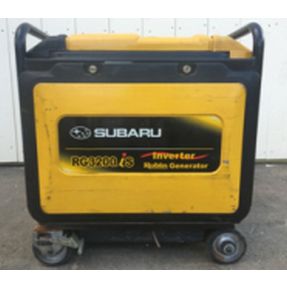 Subaru RG3200iS
(# 22-104-03)

The Subaru RG3200iS functions well for both sensitive electronics and jobsite tools. The inverter generator has a multi-monitor display to keep the operator informed of information such as the voltage output, frequency, and hours of operation. It also features an OSHA-compliant Ground Fault Circuit Interrupter which ensures operator safety and overload protection to stop the output of power to receptacles in case of overload. This generator is equipped with a steel tubular frame and base for extreme durability, and has a fuel shut-off valve that makes it easy to service the carburetor or transport the generator.

Engine Type: 4-Stroke
Fuel Type: Gasoline
Safety Protection: N/A
Operation Instruction: Fill unit with gas. Start unit. Plug in as desired.
Additional Parts/Information: Do not place unit in or around water.
U/M

/ DA

Price

$60.00

Part Number

FA22-104

Quantity Available

.