Generator 3250 Watt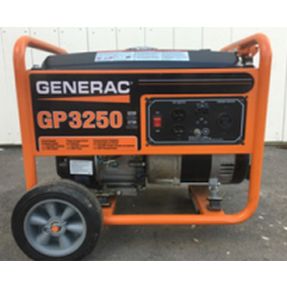 Generac GP Series 3250 with Electric Start
(# 22-107-05)

The Generac GP Series 3250 portable generator is the perfect fit for outdoor use like camping, tailgating, and power tool use. The Generac's OHV engine promises a long engine. The large-capacity steel fuel tank features an incorporated fuel gauge for durability and extended run times. The low-oil level shutdown safeguards the engine from damage, and the hardened steel tube cradle, the fold down handle, and the heavy-duty, never-flat wheels ensure that the generator is durable and portable.

Engine Type: 4-Stroke
Fuel Type: Gasoline
Safety Protection: N/A
Operation Instruction: Fill unit with gas. Ensure power button is in the on position. Start unit with pull cord. Plug in as desired. Additional Parts/Information: Do not place unit in or around water.
U/M

/ DA

Price

$55.00

Part Number

FA22-107

Quantity Available

.