Stihl Br 800x Back Pack Blower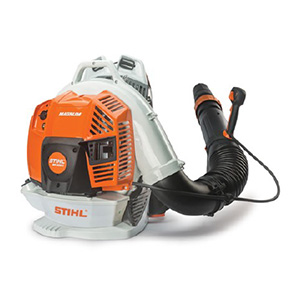 STIHL BR 800 X Magnum Backpack Blower

Prepared to be blown away? The most powerful blower in the STIHL line is here. This blower is the ideal machine for professional landscapers tackling large properties. With a 4.4 bhp engine, the BR 800 X offers 20 percent more power than the BR 700, allowing you to clear leaves, grass and heavy debris faster and more efficiently. By adding this to your fleet, you'll see a real impact where it counts most - on your bottom line. Blast through jobs quickly and move on to the next, all while doing it in comfort. The BR 800 X features ergonomic S-shaped shoulder straps and an easily adjustable handle, allowing each user to select their most comfortable position. It also includes a hanging slot for convenient storage when not in use.

Specifications:

Displacement: 79.9 cc

Engine Power: 3.2 kW

Weight: 23 lbs

Average Air Velocity: 89 m/sec. (199 mph)

Air Volume: 912 cfm (at nozzle)

Fuel tank capacity: 67.6 fl oz
U/M

/ EA

Price

$599.99

Part Number

BR800X

Manufacturer

NORTHEAST STIHL

Quantity Available

.