Stihl Ht 56 C-e Pole Pruner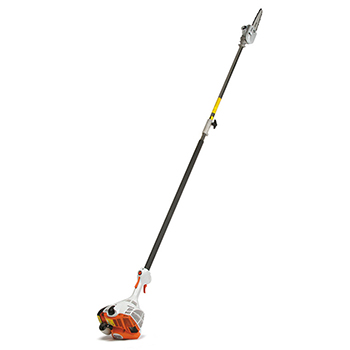 STIHL HT 56 C-E POLE PRUNER

DISPLACEMENT027.2 cc (1.7 cu. in.)
ENGINE POWER00.8 kW (1.07 bhp)
WEIGHT (with cutting attachment)06.2 kg (13.7 lbs.)
FUEL CAPACITY0340 cc (11.5 oz.)
CHAIN OIL CAPACITY0220 cc (7.4 oz.)
OILOMATIC0 CHAIN01/40 RMS, 10" Bar and Chain
SHAFT LENGTH09'2"


Don0t let overgrown branches loom over your property.

Prune those branches with the STIHL HT 56 C-E pole pruner.

It0s nearly effortless to start thanks to our Easy2Start technology just give it a light pull and watch the STIHL HomeScaper Series engine roar to life.

The pruner is also lightweight and features a unique, two-piece shaft design for easy storage and transport.

It0s a great addition to your landscaping arsenal, all for an affordable price.
U/M

/ EA

Price

$359.99

Part Number

HT56C-E

Manufacturer

NORTHEAST STIHL

Quantity Available

5