Stihl Rb 200 Pressure Washer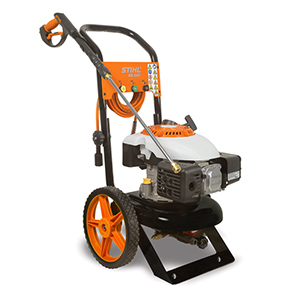 STIHL RB 200 Pressure Washer

When you need to do a heavy cleaning on your deck, house or equipment, the STIHL RB 200 pressure washer does it all without fuss. Its powerful 173 cc (5 hp) engine delivers 2,500 psi of water pressure - powerful enough to tackle tough cleaning jobs on sidewalks, driveways, decks and more. This power washer also features an easy start pump system, so no hard pulls or difficult starts. It also comes standard with a detergent injector system, so you can easily add detergents to the washer for efficient cleaning. And with its 25' no-kink flex hose, you can clean more area without having to move the machine.
The RB 200 pressure washer uses a wide range of cleaning accessories for maximum utility. Optional accessories include a rotary surface cleaner, water broom, multi-function nozzle, long range nozzle, hose extension, gutter cleaner, wand extension, pivot coupler and official STIHL cleaning agents.
U/M

/ EA

Price

$569.99

Part Number

RB200

Quantity Available

In-Store Only