Stihl Ts 500i 14" Cutquik Saw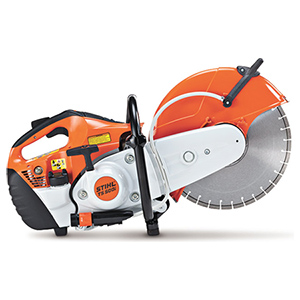 TS 500i With Electronically Controlled Fuel-Injection. - Professional Use

ENGINE POWER 5.2 bhp / 72.2 cc
WEIGHT 10.2 kg (22.5 lbs.)
FUEL TANK CAPACITY 725 cc (24.5 oz.)
ENGINE SPEED 9,000 rpm (Elec. Gov.)
MAX. SPINDLE SPEED 5,350 rpm
MAXIMUM WHEEL SIZE 350 mm (14")
MAXIMUM CUTTING DEPTH 125 mm (4.9")

Abrasive cutting just got more cutting-edge. STIHL introduces another industry first with the TS 500i STIHL Cutquik(R) cut-off machine - the first handheld outdoor power tool to offer an electronically controlled fuel-injection system. This system increases power and performance over 15% while remaining lightweight and well-balanced. The fuel injection system makes starting easier and more reliable by eliminating the choke. Just set the switch to on, prime and pull.
U/M

/ EA

Price

$1,459.00

Part Number

TS500I-14

Manufacturer

NORTHEAST STIHL

Quantity Available

In-Store Only